Ramakr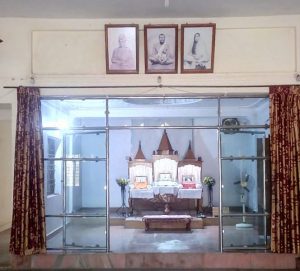 ishna Seva Samiti, Krishna Nagar, Mull Road, Chandrapur is a Charitable Philanthropic Organisation and a Member of Ramakrishna-Vivekananda Bhav-Prachar Parishad, Maharashtra under the guidance of Ramakrishna Math and Ramakrishna Mission, Belur Math, Howrah. It is a Spiritual and Service oriented Organisation. It has played a vital role in spreading the message of Ramakrishna-Vivekananda-Vedanta Literature in and around the city of Chandrapur. Today, the activities of the Ashrama have expanded, imparting value-based education and medical services to the poor and needy people.
HISTORY OF RAMAKRISHNA SEVA SAMITI KRISHNA NAGAR CHANDRAPUR:
The group of devotees from Krishna Nagar received spiritual initiation in the year 1994 and 1995 at Ramakrishna Math Nagpur from Srimat Swami Gahananandaji Maharaj and Srimat Swami Ranganathanandaji Maharaj, both of them then Vice President of Ramakrishna Math Belur Math. Getting inspirtaion from Srimat Swamis Brahmasthanandaji Maharaj, Adhyaksha of Ramakrishna Math Nagpur and Sujayanandaji Maharaj, the devotees decided to start an Ashrama in the year 1996 in Krishna Nagar on the holy occasion of birthday celebration of Holy Mother Sarada Devi. It was started in a small hut with the roof of kavelu (Manglore tiles). Ashrama was registered in the year 1997 under Charitable Commissioner Chandrapur and received the registration number F-5967. Daily Regular worship and weekly programmes on every Satuday was started. Devotees assamble in the Ashrama and do Puja, Arti and sing Bhajans and Sankirtans. They read the spiritual books like Gospel of Sri Ramakrishna etc. At last Prasad is distributed. In 1997, the Library was started and in 1998 the sale of Ramakrishna-Vivekananda-Vedanta Literature was started officially though they were doing this since 1994. In 1998, on the holy occasion of birthday celebration of Holy Mother Sarada Devi, Shrine was shifted in the new building. In 2001, the Library was shifted to new building. On 27th June 2011, a Primary School (CBSE) was started under the name "Bhagini Nivedita Vidya Mandir". In July 2013, there was a devastating flood. So relief work was done in nearby area by distributing meals (Khichudi) and clothes to affected people. The Monks' Quarter for visiting monks of Ramakrishna Order was built in 2019. And in December 2019, Ramakrishna Seva Samiti became a member of Ramakrishna-Vivekananda Bhav Prachar Parishad, Maharashtra. On 15th March 2021, Tithi Puja of Sri Ramakrishna, Website of the Ashrama was launched and CCTV was installed in the Ashrama campus.